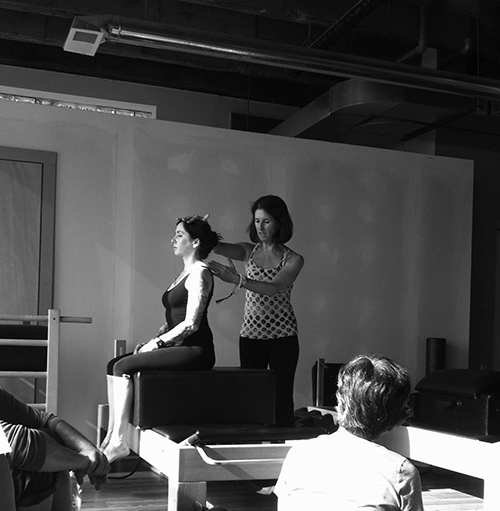 Erin learning from the master: Madeline Black
Pilates Artistry, Inc. is the creation of Erin Lauer Johnson, PMA® Certified Pilates Teacher.
In 2015, Erin started The Pilates Artistry Teacher Training Program to offer a comprehensive Pilates training with an emphasis on anatomy, safe teaching, and critical thinking. The program offers a 620-hour comprehensive, diploma-based Pilates education. It covers mat, reformer, wunda chair, Cadillac/tower, and barrels.
Erin is a curious teacher who has spent a lot of time pursuing continuing studies in Pilates and allied modalities to help understand the body. After attaining her 450-hour certification, she has gone on to pursue over 400 more hours of study with various Pilates master trainers. Learning from each client and their unique bodies, she been compelled to understand and study myofascial lines, shoulder injuries, hip replacements, knee injuries, and various breathing practices. She has worked extensively with Madeline Black, Cara Reeser, and other Pilates master teachers like Deborah Lessen.
Erin passes her extensive training and knowledge down to her students taking the Pilates Artistry Teacher Training Program.
In 2017, Erin graduated from THE HERITAGE TRAINING®: A Post-Graduate Program for Pilates Professionals Taught by Cara Reeser
This program led Erin deeper into the work and back to the foundations. She now considers herself to be a movement coach. This training provided her with the tools to deliver conscious, autonomous training to her students, building the exercises from movement skills.